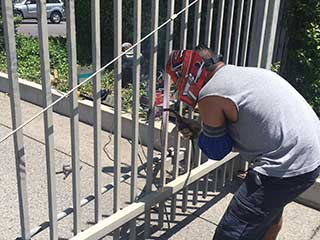 Putting up a wooden or a metal barricade in front of your house or commercial property can bolster up security and add a lavish appeal to the real estate. That's the two main reasons why people have gate systems installed. The main one being privacy and security, with the happy additional benefit being an enhanced curb appeal. A lot of gates can be very strong and tough but they still need some type of maintenance and to be repaired occasionally, in order to keep on functioning optimally.
Gate Misalignment Repair
Your gate can only protect you if you can close it and lock it properly. If this is not possible, then it provides no more protection than a minor obstacle would. In order for the system to be properly closed, it needs to be aligned. Some of the common reasons why a gate becomes misaligned include damage to the posts, either due to corrosion for metal ones or rot for wooden ones. When this happens, the hinges may get detached and the door may start to sag. Another reason why misalignment may occur is a direct impact from a moving vehicle. Metallic or wooden gates dent or break when subjected to forceful impacts, depending on their thickness and durability, of course. Whatever the reason for the problem, our team can help. We'll remount the hinges properly and repair any broken door and locks to restore the system's perfect alignment.
Miscommunication With The Intercom
The intercom serves as an added layer of security to the gate system. By using it and an access panel located inside your home, you will be able to properly screen your visitors and guests. Only those whom you have deemed worthy of entering your property will be allowed to enter. However, when there are problems with the electronic parts of the intercom system or with its ability to communicate with the gate opener, our repair service can help. We can fix both electronic and mechanical issues and make sure your intercom and access panel are fully functional again.
Losing The Spin
Rollers and wheels provide a very important service to the overall function of a rolling gate. A sliding door will require wheels to move along the track, while swing type gates will need wheels to make the doors travel easier down its swing arc. If these wheels break, those movements can be hindered, or stop completely. That's another somewhat common problem our team can assist you with. We'll repair or replace the broken wheels for you and make sure the gate can continue moving smoothly like it used to.
Give Us a Call
Garage Door Repair New Canaan is dedicated to providing the best service to our customers. If you find that your automatic or manual gate system isn't working properly, contact us and we'll quickly solve the problem.
Give our team a call if you need help with:

Solid Sliding Gates

Phone Entry Systems

Allstar Remote

Security Gate Repair